HISTORY OF OUTWARD BOUND
The Outward Bound story began in 1920 after the First World War (1914-1918) with the inspiration of a humble educator who believed in the personal development of youth. A man of inspiration, dreams and visions. A man who declared over 65 years ago that "the young have to be protected against certain poisonous effects inherent in present day civilization". He identified five social diseases that surrounded youths, whose characteristics are a decline in……
Fitness due to modern locomotion
Initiative due to widespread spectatoritis
Care and skill due to the weakened tradition of craftsmanship
Self-discipline due to the widespread availability of tranquilizers and stimulants
Compassion due to the unseemly haste of modern life
Kurt Hahn's humble, yet illustrious career in the field of education spans some 40 years; most notable of his achievements being one of the founding members of the Schloss Salem in Germany, the Gordonstoun School in Scotland as well as an inspiration to other unique educational enterprises such as the United World Colleges, Round Square Conference of Schools and numerous other award schemes and programs.
After being released from imprisonment for defiance to Adolf Hitler in Germany, Kurt Hahn was brought to England to live in exile where after some years founded the world famous Gordounstoun School which boasts of notable future captains and leaders of industry and commerce. Most famous being a young Austrian Prince, Prince Philip, later the Duke of Edinburgh.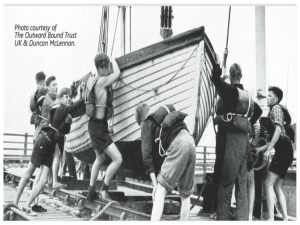 With the war ever closer in 1939, Hahn had an inspiration to conduct a
"shorter course" of a month's duration where young men could experience the outdoors and work towards their personal development. Hahn shared his vision with all, one such person being Lawrence Holt. Holt not only a Gordonstoun parent and fond believer of Hahn's vision and ideals but also a director of the Blue Funnel Shipping Line. Holt was enthusiastically interested in training for the sea and sea survival, he coined the term "Outward Bound" which simply meant ships' crews leaving the uncertainties of home and embarking on bold and daring adventures. Holt who at this time was genuinely concerned as not only were a number of merchant ships being targeted by the Germans, more alarming was, how the young seamen who were presumed to be physically stronger and more adept to the rigours of the sea were dying. Holt highlighted his predicament to Hahn who in turn enlisted the aid of Jim Hogan, an accomplished educator with ideals similar to Hahn, a man known for turning visions into realities and together: Kurt Hahn – the dreamer, Lawrence Holt – the provider and Jim Hogan – the facilitator established the Aberdovey Sea School in 1941 on the west coast of Wales which offered a 28-day residential course. 24 boys enrolled in the first "standard" Outward Bound course of training, applying the four pillars of Compassion, Services, Physical Fitness and Skill. With the main educational basis taken from two ancient Greek concepts "Know Thyself" and "Nothing to Excess".
The rest is history. The Outward Bound Trust was formed in 1946 with a view to expansion, fund raising, publicity, staff training and the recruitment of staff. The motto, an adaptation from Lord Tennyson's poem "ULYSSES" – "To Strive, To Seek, To Find and Not to Yield" has now become synonymous with Outward Bound the world over.
Outward Bound initially expanded through the Commonwealth of Nations and within Hahn's native country subsequently to other parts of the world. At present there are 50 centers all over the world spanning the five continents, with a number of new schools applying for new charters.