The birthday of the Outward Bound School of Malaya is the 28th June, 1952. On that date three men visited the Perak coast, near Lumut, and looked for a possible site for a "Sea School". The searchers were M. Sheppard. M.C.S then British Adviser Negeri Sembilan who arranged the meeting, G.S. Walker, M.C.S the District Officer Lumut and E.L. Marsh, a member of the staff of Barlow & Co. in Kuala Lumpur. Marsh was a life member of the Outward Bound Trust in England and was familiar with its organization, and Sheppard invited him to come to Lumut with him on June 28th. Sheppard, who had easy access to the High Commissioner, as a British Adviser, mentioned the ideas of a school for leadership training to General Sir Gerald Templer and was promised enthusiastic support.
Three possible sites were examined: one at Kuala Sepit, one at Telok Muroh and a third at Telok Haji Salim.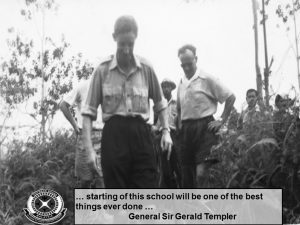 While a preliminary memorandum of the scheme was being drafted, Sheppard wrote to the
director of education, Whitfield, suggesting that one or more student teachers at the government Teacher's Training College at Kirby might be sent to an Outward Bound course. Whitfield agreed to the suggestion and put forward the name of a graduate of Kirby who had specialised in physical training who might be nominated forthwith to attend an Outward Bound course at Aberdovey.
It was now January 1953 and a draft memorandum with some preliminary estimated were prepared and exchanged between the four planners.
The first draft memorandum was headed "The Templer Sea School" and the object, as planned, was to offer to Malayan industry, educational establishments, youth organisations, trade unions, government and public authorities, parents and others, opportunities to provide special character training for their young men by sending them for a course at the Sea School.
The memorandum set out the principles on which the school would be founded, accepting 50 young men between the ages of 17 and 22 for each course. It was agreed to ask the government to make an interest free loan of $250,000/= to launch the project, and proposed that a trust be set up in Malaya to administer the scheme.
The final draft was agreed to at a meeting of the four planners at the Seremban residency on Sunday 25th Jan 1953. The memorandum and estimates were sent to the High Commissioner General Sir Gerald Templer on 7th March, 1953.
A few days earlier, the financial secretary, Himsworth, whose advice had been asked for by the High Commissioner, stated in a two page memorandum that funds could not be made available for at least another 12 months.
Templer was not discouraged. he agreed to invite leaders of Malayan industry, banking and business to meet him and consider giving their practical support. Sheppard sent him a list of 34 such potential benefactors and Templer arranged to hold an 'at home' in London in May 1953 to which these and a number of others were invited.
Sheppard also asked Peterson, the Director of Information Services if he could provide a short film about Malayan youth, to be shown at the 'at home" and it was completed and was in London in time. Marsh was among those present at Templer's lunch party in London, and those present, inspired by Templer's charisma and typically blunt style or oratory, gave an assurance of sufficient funds to make it possible to proceed with the project.
Sheppard took t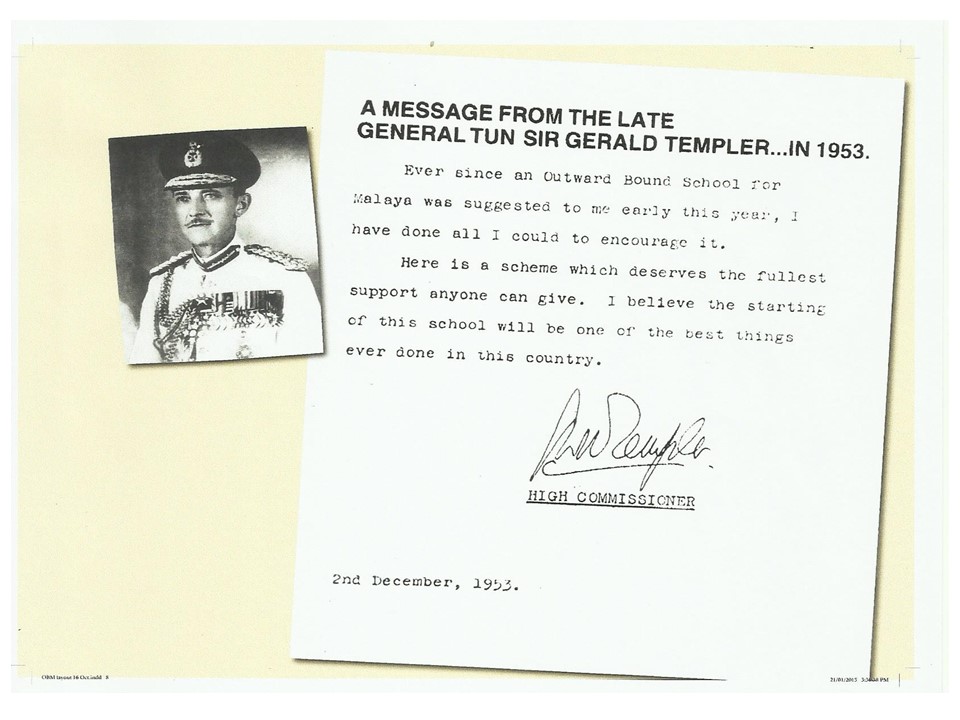 wo months leave in the summer of 1953 and invited Raja Sir Uda, the Malayan High Commissioner in London t
o come and visit the Outward Bound Sea School at Aberdovey on August 5th. He was welcomed by Capt. Fuller, the Warden.
Two weeks later, when Sheppard was staying at his home in Ireland he received a letter from Sir Gerald Templer in which he mentioned that he had set up a committee to carry on the preparations for the setting up of the school, and had appointed R. Carey, the member for works, as the chairman. He added "Fuller is flying out here on 20th September to give advice on where the school should be …….. I think myself, if all goes well, the first course will take place on 1st May next year".
On Sheppard's return to Negeri Sembilan the group of four planners was dissolved and a trust committee was set up in February 1954. With it a new chapter in the history of the Outward Bound School of Malaya opened.